Websites designed to work from day one to help you focus on running your business.
Our custom designed websites are powered by WordPress and work on all popular devices, so you don't lose visibility.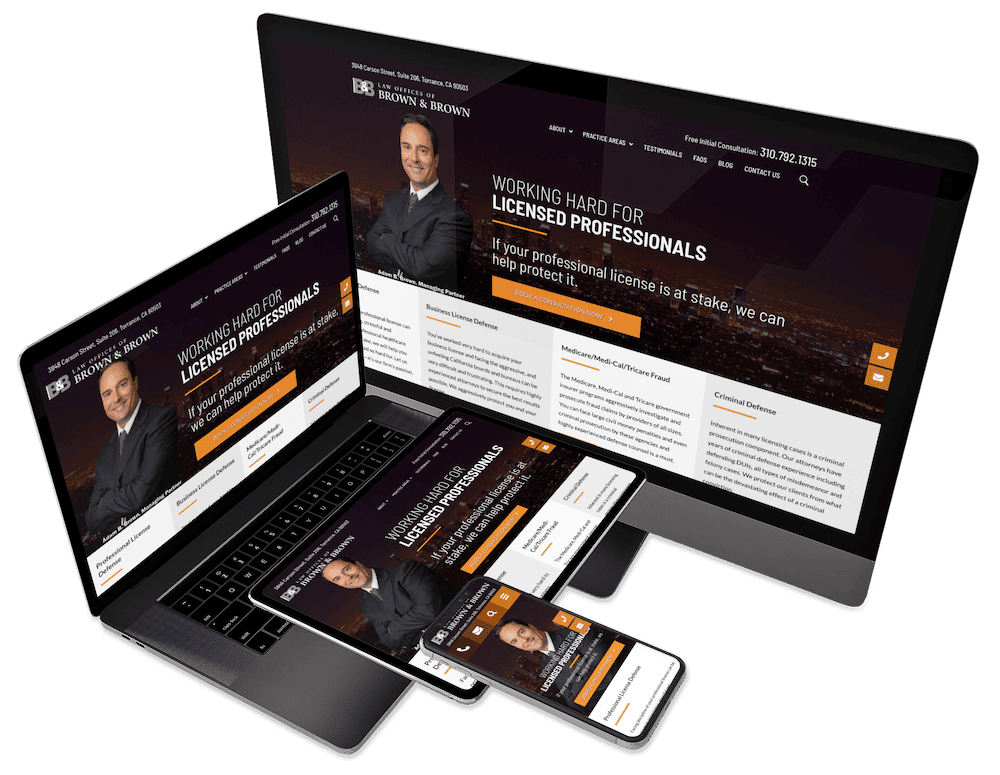 More than just a regular web designer.
There are a number of things that have to happen to bring a website to life. Some of it is creative, some of it is technical, and facing all of it can sometimes be pretty overwhelming (especially if you aren't technically or creatively minded!).
Luckily, we can take care of you and help you turn your idea into a reality.
Custom Web Design
Your site will be custom designed and built right into WordPress. If you need static mockups we can do that as well, but we prefer to build and adjust as we go. Oh, and no pre-built templates.
WordPress Powered
Along with a custom designed and built website, we have one of the best CMS platforms available powering it. This means easy updates and changes.
Your Device Included
We will always spend the extra time to make sure that your website is responsive and works on all the popular devices people use. Computer, tablet, phone, it doesn't matter, we've got you.
Content Organization
We'll take any existing content you have and work it into the new website, along with optimizing it for easier readability and basic SEO standards. If you need new content, we can help with that too.
Hosting and Technical Stuff
Getting your website live and visible is probably the least exciting and most mind numbing thing that needs to be done. Luckily, we have an awesome high performance server.
Security
Like any website, if it's not kept up to date it can become a liability. That's why we make sure you have premium protection available and turned on when your site goes live.
Forms
Your website will always have multiple ways for visitors and customers to contact you. We will create custom forms to integrate where needed, and they can do whatever you need.
Digital Design
Design isn't limited to just layouts or print materials. Sales banners, ads, and online posters are just a couple of the things that we can design for your website to give it that extra pop.
Ecommerce
If you have products that you want to sell online, we can easily integrate a shopping experience into your existing WordPress site, or build a new platform that works seamlessly with your needs.
Get Started With Your New Website
We're ready to get started on your project! Let us know the details about your new website or redesign, and we'll get back to you with some information on how to move forward.
Frequently Asked Questions
There's a lot that goes into a website, and depending on your specific needs the cost may be higher or lower than you are expecting.
We can give you an exact price once we know what your goals are and what types of features you want included, but all website projects start at $4,000 as a minimum.
Yes, we do. If you would like to split your project payment up, we offer plans that span 6, 9, or 12 months to help accommodate your needs.
Please note however, that this monthly cost is separate from any other website maintenance that is requested after the completion of the site. You will also be required to host your website on our server until payment is completed (you are free to leave it on our server afterwards though with the continuation of a care plan).
As of January 1, 2022 our hourly rate is $125 per hour, billed in quarter hour increments ($31.25). This rate is applied for work update requests that are not covered in a monthly care plan.
In general, our website projects are typically finished between 4 to 12 weeks. A lot of that timeframe depends on the complexity of the website and the requested features, as well as the responsiveness of the client to review and feedback requests.
We are available Monday - Thursday, from 10am - 4pm for regular office needs and hours. We are closed Friday - Sunday.
We also observe all major holidays, with some additional personal time off during the year.
However, we pay attention to email and in the event of an emergency we always have a way to be reached.
We build all of our websites using WordPress. It's used in over 35% of all websites on the internet, and is a practical solution for any small to medium, and some large, business.
It's easy to manage, and with a large consumer base it's regarded as one of the best platforms available.
You are responsible for the content of your website. We recommend that you get in touch with a copywriter if you need help fleshing out your content.
As an alternative we can help you with content, and that will be reflected in the total cost of the project.
All of our websites are designed to work on a variety of devices, including desktop computers, laptops, tablets, and smart phones. We also test extensively in different browsers and computer operating systems to make sure we cover as many bases as possible.